I was in the market to upgrade from my Santa Cruz Blur XC, and got the hankering for a new Mojo. Being fiscally conscious, and in light of the great condition of my Blur, I thought, I will just go ahead and buy a frameset, maybe find one used, and be into a relatively low dollar upgrade by using my existing Blur components. As I soon came to realize, nothing really fit from the old to the new setup. Wrong seatpost, wrong fork, wrong headset, etc.etc. I then decided to sell the Blur outright and try and source the XT build kit as I had found a used SL Mojo.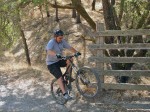 I sold the Blur to the first guy that looked at it, and then began toll calling all of the Ibis dealers to see if anyone would sell me a build kit. No, no, no, no, no, and no. Then I met Rick. He said sure I will sell you a build kit to put on your used frame. Come up and see me in Davis. And I did. And then, in Rick's anal retentive engineering style, he proceeded to tell me that my allegedly lightly 'used' Mojo SL had some weird rubber coating on it, and the wrong shock??!! While I got a reasonable deal on the frameset, it wasn't so righteous when factoring in I needed a new shock, and we couldn't figure out what was all over the frameset. Soooooo, I am pretty depressed, and the axiom of 'you get what you pay for' is running through my head, I am wondering why I ever sold the Blur, and overall am in a funk. Rick says, 'Why don't you just buy a new frame from me and we will build the bike right now?' I told him I just had a hard time spending over $4k for a new mountain bike, no matter how trick the Ibis was. He provided a new Ibis Mojo frame that he had in my size with a small cosmetic blemish on the bottom bracket and knocked some dollars off the price, and then we proceeded to build the bike together. 5 hours later, I was back in my car on my way home.
I get home, go for the obligatory break in ride at Shell Ridge (I live right at the base of Mount Diablo), and am instantly impressed. Amazing machine. I get home, my wife says, 'Well, what do you think of your new bike?", and I said, it's ALL that, 5 ½" of travel, climbs like a goat, rips down the singletrack, the only problem I can see, you still gotta pedal it!
Someday when I'm not fat, climbing won't be such a chore. The Ibis Mojo would be perfect if it had a KTM 450 motor in it! Thanks for the great service and the great bike. I have really enjoyed it. Thanks for saying yes when no one else wanted to make it happen. Bicycle Engineering is the hot ticket! Happy Trails!
Jeff Randolph
Walnut Creek, California