Back in the day, I was pretty focused on tandems and designing a tandem that worked better that what was available back then. As an engineer, I was using computer structural design software that I developed to help analyze and design better bikes. It worked pretty well and the tandems I was building attracted some attention because others thought they were pretty good as well. Below are some of the articles that were written about my Tango Tandems and the original ibis Tandems I designed for Scot Nicol.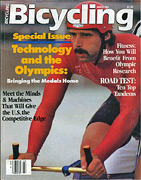 This is the article that really launched my bike business. Bicycling Magazine was doing to comparison of top tandems. I found out late about the testing so my design was not one of the bikes being tested. I decided to sent it to them anyway. I built a large wooden crate for it and sent it off to John Schubert at Bicycle Magazine. Though it wasn't part of the official comparison, John and Tom Walz wrote a separate article about how the testing team "mercilessly thrashed" the bike, and how it didn't budge.The result was that "The Tango serves as a demonstration of what is possible in tandem design."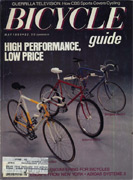 I sure look young in the pictures in this article. It talks about my use of computer modeling to design bicycles. In the mid-eighties, I developed a computer software program that enabled me to test various structural designs and configurations for a bike against varying criteria. The computer allowed be to "genetically engineer" a well-design tandem rather than having to go through generations of trial and error. The article goes into some detail about some of the design variations I developed through this process.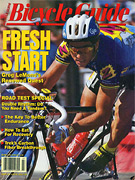 In this article I am interviewed by Christopher Koch. I talk about my design philosophy, how I got started designing tandems, and some of the solutions I found to common challenges in frame design. This article explains a lot about how I approach bicycle design.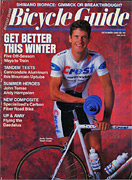 This article focuses on how I came to design the Ibis tandem in the first place. I was designing and building Tango tandems. Scot Nicol, who founded ibis, couldn't find a tandem to suit his riding demands. After surveying the field of builders, he contacted me, and together we built the first Ibis tandem.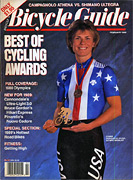 This is a brief article hailing the Ibis tandem as the best of the year. This is the original Ibis tandem, which I designed incorporating my Uptube design. Bicycle Guide thought the Uptube made "all previous tandem designs obsolete."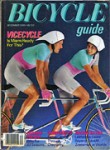 This is a brief item about the four-seat Tango Quad I designed and then rode in a14-day transcontinental ride. The ride was grueling: We went through three dozen tires and tubes, nearly two-dozen chains, and broke a headset with bearings larger than those in most car wheels ( a failure noted in the article). But the frame held together over two weeks of 200+ mile days, and the bike handled great in speeds ranging from 3 to 70mph. The bike survived the test. The riders suffered more, but survived as well. I won't be doing that again!