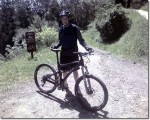 After deciding to get in shape to make mountain biking easier and more fun (i.e. less walking and more riding) I knew that purchasing a good bicycle was also critical to make this happen. Through word of mouth and scanning the various bicycle magazines, I narrowed down my choice to a couple of bicycles. As one of the choices was the Ibis Mojo SL, I searched for a dealer near where I live in Sacramento and found the Bicycle Engineering website. I made contact with Rick Jorgensen who was extremely patient with me through several email exchanges, telephone calls and even a visit at my jobeducating me about the pros and cons of several bicycles and parts. After some time I made the decision to purchase an Ibis Mojo SL from Bicycle Engineering which has turned out to be a wise decision.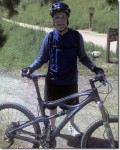 First off, once I notified Rick of my intention to purchase the bicycle from Bicycle Engineering, he picked up the frame and the various parts from several vendors in about a week. Then Iwent over to Rick's shop and watched him build the bicycle with the various parts that I requested. After only a couple of visits during one weekend, Rick completed building the bicycle. Rick painstakingly took the time to explain the role that each part has in the operation of the bicycle. He ensured that the bicycle was a fit for me by taking the time to watch me ride, sit on the bike, etc. Like others have said before me, it was a truly educational and enjoyable experiencepurchasing theMojo SL from Bicycle Engineering.
I have ridden the Mojo SL on several occasions in Northern California since the purchase in March 2009 and I am havinga blast every time I take the Mojo SL out for a spin. It is a very light bicycle, very comfortable, easy to ride and has allowed me to clear someareas that I neverthought possible on other bicycles that I previously rode. Every time I havehad a question for Rick regarding the bicycle he isvery responsive to emails and is more than willing to take a look at the bicycle.Rick has been very interested in hearing about the performance ofmy Mojo SL which is very reassuring to know that if somethingabout the bicycle were to not work properly there is no need to worry as the confidence is there to know that Rick will make it right. If you are lookingto purchase one of the top-of-the line mountain bikes out on the market today, I highly recommend purchasing an Ibis Mojo SL and if that is your choice, you should strongly consider making your purchase from Bicycle Engineering in Davis, California.You will not regret it!
Keith Kuzmich
Sacramento, CA