I have been designing and building bikes since the 70's. I started selling them to others under the brand name Tango in the 80s. Around this same time, Scot Nicol asked me to design the first ibis tandem.
Bike building has never been my primary occupation. This has allowed me a great deal of freedom to experiment and innovate, and to choose clients and projects that interested me.
My primary occupation at the time I developed Tango was designing bridges for the State of California.  That influenced my approach to design. Ninety percent of engineering is understanding the critical loads applied to a structure. In bikes, the critical design load is governed by deflections which cause instability and drive train inefficiencies.  I developed a software program to incorporate my understanding of structural design to bikes, and the result has been very sucessful.  In addition to satisfied recreational riders, a number of cyclists in the Race Across America (RAAM) rode my tandems in record-breaking times.  Some of those records still hold today.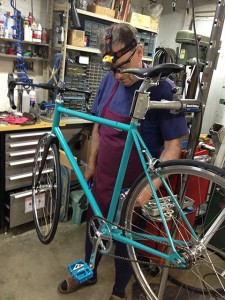 Most of what you want to find in this About page can be found in the What People Say  and Articles sections.